Machines — Cutting-edge technology
For wood, alu­minum, plas­tic and com­pos­ite mate­r­i­al processing
Which machine fits your require­ments? We don't offer off-the-shelf sys­tems; our machines are pre­cise­ly tai­lored to your indi­vid­ual chal­lenges. That's why it's impor­tant that we talk about them in detail.
With our high-qual­i­ty per­for­mance as a renowned machine man­u­fac­tur­er, we pro­vide you with experts who devel­op solu­tions to guar­an­tee your com­pet­i­tive­ness through tech­no­log­i­cal progress.
Diese Mas­chine bearbeitet: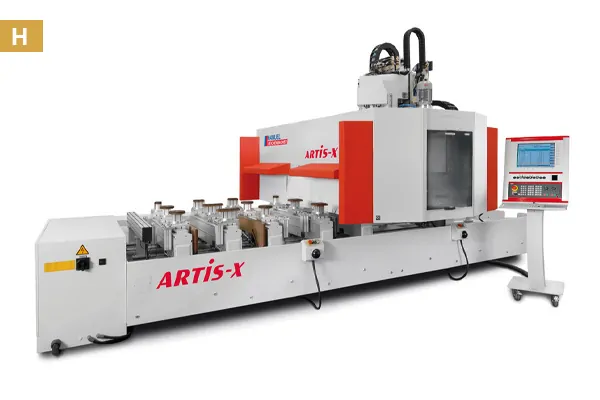 ARTIS‑X
High qual­i­ty, repeat pro­duc­tion and flex­i­bil­i­ty for small quan­ti­ties are the typ­i­cal require­ments of most small and medi­um-sized join­ery shops.
ECO
With the ECO CNC-machin­ing cen­tre, Reichen­bach­er Hamuel have utilised all their know-how and expe­ri­ence in high per­for­mance machine con­struc­tion to devel­op a series that offers the high­est lev­els of flex­i­bil­i­ty and productivity.
ECO-LT
The machin­ing cen­tre ECO-LT is to expand the proven ECO-NT series of Reichen­bach­er Hamuel by a ver­sion avail­able at a favourable price. It has specif­i­cal­ly been devel­oped for the machin­ing of plas­tics, alu­mini­um and com­pos­ites (CFRP, GRP)…
ECO-NT
The new ECO NT series by Reichen­bach­er Hamuel guar­an­tees absolute con-tour accu­ra­cy, the high­est sur­face qual­i­ty and pre­ci­sion. With the new fixed and low vibra­tion gantry con­cept, the fixed machin­ing table on a rugged frame…
ECO-RS
The ECO-RS is avail­able in two dif­fer­ent sizes. Instal­la­tion and start-up of the machin­ing is eas­i­er than ever before, since all parts are per­ma­nent­ly attached to the machine…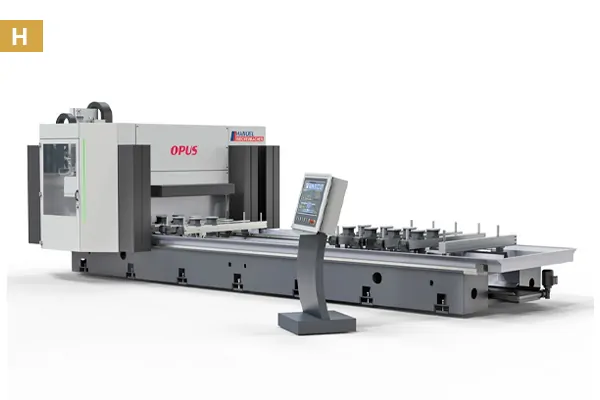 OPUS
The 5‑axis CNC machin­ing cen­tre OPUS makes it easy for the wood­work­ing trade to get start­ed with inno­v­a­tive CNC tech­nol­o­gy. Hand­i­craft busi­ness­es with rather limited…
TUBE
Our busi­ness phi­los­o­phy con­sists in devel­op­ing lines that appeal to our tar­get groups. Nor­mal­ly, to achieve this goal we base the con­cept for each line on our…
VISION‑U/-L
Machines of the VISION series have a machine sub­struc­ture with a fixed table. The gantry is mount­ed upon the machine table and car­ries out the…
VISION-FLEX
The high­ly dynam­ic 5‑axes CNC-machine VISION-FLEX is per­fect for the advanced pro­cess­ing of alu­mini­um pro­files, as it rev­o­lu­tionis­es the…