Wide Range of Train­ing Courses
Only those who thor­ough­ly under­stand the func­tion­ing of the machines, its units and the con­trol sys­tems incor­po­rat­ed into the machines, can make opti­mum use of them. For your own advanced high-tech machine, it will require qual­i­fied instruc­tion for cor­rect in-house operation.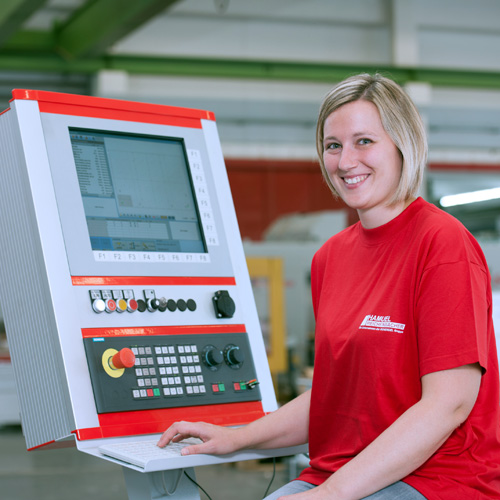 Efficiency
Quality
Productivity
Spe­cif­ic train­ing on your machine results in your oper­at­ing and main­te­nance staff being capa­ble of util­is­ing the state-of-the-art fea­tures. Staff moti­va­tion by thor­ough train­ing has a num­ber of advantages:
Increased skill of the oper­at­ing personnel
Short­ened com­mis­sion­ing times of the machine
No down­times due to oper­at­ing errors
Ear­ly full pro­duc­tion output
No unnec­es­sary exper­i­ments with expen­sive material
Take advan­tage of our offers. With these train­ings, we guar­an­tee you the high­est effi­cien­cy, qual­i­ty and productivity.
Basic Training CNC-Applications:
Pro­gram­ming of a CNC-machine per ISO-code DIN 66024 (basics)
Fun­da­men­tal pro­gramme structure
Oper­a­tor brief­ing for the SINUMERIK con­trol systems
Cre­ation of sim­ple pro­grammes at the machine
Sub-pro­gramme technology
Appli­ca­tion of zero off­set and tool correction
Pro­gram­ming for machines with sev­er­al axes
Data trans­fer, data backup
Advanced Training:
Pro­gram­ming of a CNC-machine per ISO-code DIN 66024 (expan­sion)
Spe­cial pro­gramme structure
Oper­a­tor brief­ing for the SINUMERIK con­trol systems
Cre­ation of com­plex pro­grammes at the machine
Sub-pro­gramme technology
Pro­gram­ming for machines with sev­er­al axes

Supplementary Offers
Oper­a­tor training
Ser­vice training
Main­te­nance training