Technical Product Designer (m/f/x)
(Specialisation in Machine and Facility Design)
Start your pro­fes­sion­al career at a future-proof company!
A pre­req­ui­site for start­ing a career as a tech­ni­cal prod­uct design­er (male/female/diverse) is a GCSE (tech­ni­cal branch) or the gen­er­al qual­i­fi­ca­tion for uni­ver­si­ty entrance obtained from a voca­tion­al high school also in the tech­ni­cal branch. Fol­low­ing the appren­tice­ship will be an employ­ment as a detail design­er in our company's mechan­i­cal design depart­ment. The main tasks are the cre­ation of detailed designs for our CNC machin­ing cen­tres in con­nec­tion with the gen­er­a­tion and up-dat­ing of parts lists. This exclu­sive­ly takes place using a 3D CAD system.
Gen­er­al:
Hav­ing obtained a cer­tain pro­fes­sion­al expe­ri­ence sup­port­ed by part-time fur­ther edu­ca­tion, your tasks will com­prise project man­age­ment includ­ing sched­ul­ing, as well as the devel­op­ment of assem­blies and machines.
Scholas­tic prerequisites:
GCSE (tech­ni­cal branch)
Tech­ni­cal branch of a voca­tion­al high school
A‑levels (Abitur), voca­tion­al diploma
Gen­er­al requirements:
Inter­est in technics
Good spa­tial imag­i­na­tion and creativity
Good marks in math­e­mat­ics and physics, tech­ni­cal draw­ing, IT and hand­i­craft class
Accu­rate and pre­cise working
Capac­i­ty for teamwork
Term: 3 ½ years
Industrial clerk (m/f/x)
An indus­tri­al clerk deals with the com­mer­cial tasks in our depart­ments, such as mate­ri­als logis­tics, human resources, accounts, mar­ket­ing and sales. This is amongst oth­ers the pro­cess­ing of order and ship­ping documents,…
Electronic technician for industrial engineering (m/f/x)
Our elec­tron­ics for indus­tri­al engi­neer­ing install, main­tain and repair elec­tri­cal pro­duc­tion and pro­cess­ing units, whether they are switch or con­trol devices, ener­gy sup­ply units…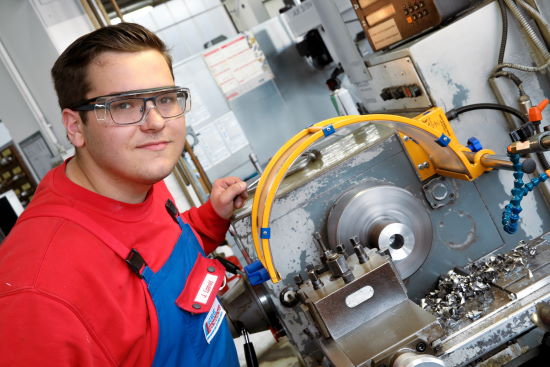 Industrial mechanic (m/f/x)
As an indus­tri­al mechan­ic you main­tain and install indus­tri­al machines and units, for exam­ple in our own man­u­fac­ture. You assem­ble and dis­as­sem­ble parts and com­po­nen­tries, locate errors, elim­i­nate fail­ures by repair and carry…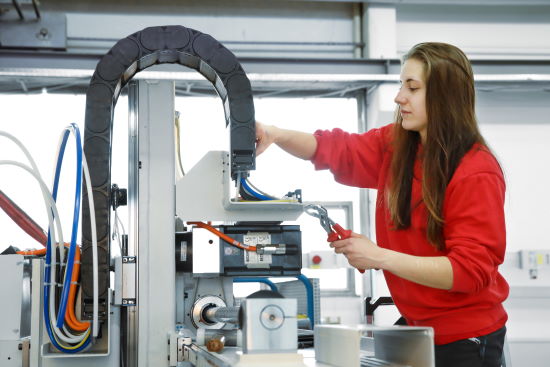 Mechatronic technician (m/f/x)
A pre­req­ui­site for start­ing an appren­tice­ship as a mecha­tron­ic tech­ni­cian with us is a GCSE (tech­ni­cal branch or alter­na­tive­ly M‑branch at sec­ondary mod­ern school). Fol­low­ing the appren­tice­ship is an employ­ment as…
Technical product designer (m/f/x)
A pre­req­ui­site for start­ing a career as a tech­ni­cal prod­uct design­er (male/female/diverse) is a GCSE (tech­ni­cal branch) or the gen­er­al qual­i­fi­ca­tion for uni­ver­si­ty entrance obtained from a voca­tion­al high school also…